Discussion Categories help organize conversations into logical "buckets" of content, which helps future members of the community easily find your content. This guide will help you make sense of the discussion categories in Docebo Community.
If you still can't sort out the categories after reading this guide, don't sweat it. We're happy to make sure your question or idea gets into the right place after you post. What matters most is that you post it!
There are three parent discussion categories in Docebo Community, each with a number of sub-categories. Each sub-category comes with a 'What can I find in this category' post so be sure to check them out.

 
Here is a list of the three main categories with all sub-categories inside Docebo Community:
The Community HQ parent category is best for new members or those seeking news & information about Docebo and the Community.
The Learn & Share parent category is the heart and soul of Docebo Community. This is where members will spend the majority of their time.
The Feedback & Requests parent category allows you to provide your feedback directly to Docebo to help us shape the future of the product as well as about your experience with the community and Docebo. We welcome any and all of your valuable feedback!
You can view all of the discussion categories in the community at any time by scrolling down to the Community content feed and selecting the Discussion Categories tab. Use the arrows on the right side to open and close each main category (Community HQ, Learn & Share and Feedback & Requests) to view all sub-categories.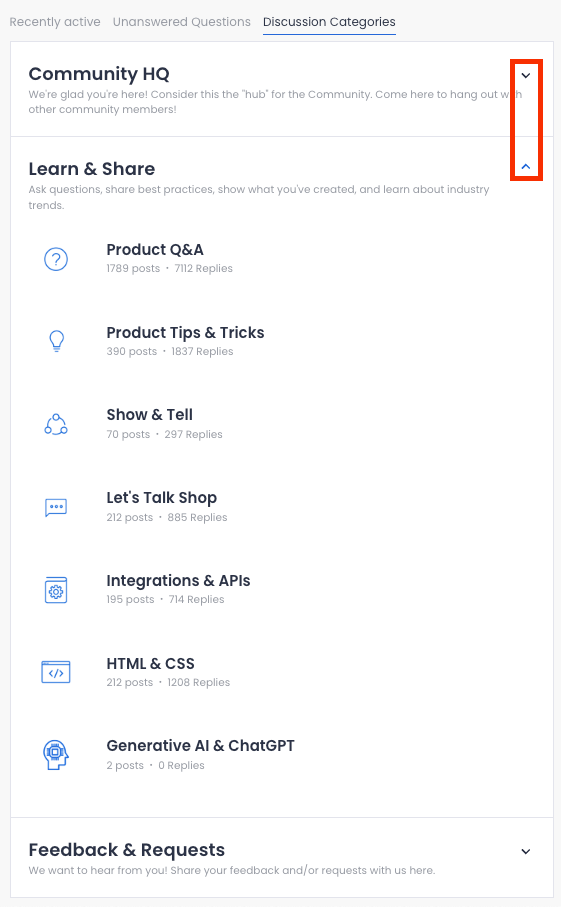 ❓ Still have questions about discussion categories in Docebo Community? Ask us below! ⬇️⬇️⬇️