"Find a group of people who challenge and inspire you; spend a lot of time with them, and it will change your life." — Amy Poehler"
Did I find that quote by googling quotes about groups, seeking no further once I saw Amy Poehler's name? Yes.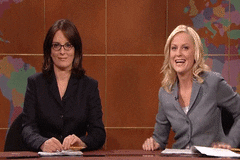 Amy said it best: it's great to find people who challenge and inspire you, and we want to help you do just that with groups in Docebo Community.
We launched the community with a small number of groups for a reason: we don't want to create inactive silos in the community. With that said, we believe groups can be a powerful way to allow Docebo experts to connect with one another based on commonalities like use case, industry, region, # of Docebo MAUs, products used, etc.
With all of that said: if you would like to create a group, we are here to help!
How do I request a new group?
To request a group, please follow these steps:
Create a post in the Group Request category that shares your idea for a group
In your post, please answer the following questions:

What would you like to name the group?
Who would this group be for?
How would individuals benefit from this group?
What sort of topics would you like to cover in this group?
Would you be willing to serve as a group owner?

Promote your group to others by tagging them in the comments of your post, direct messaging them, or sharing a link to your post.
How can I get my group request approved?
We request that a minimum of five individuals (in addition to the group requester) share their interest in joining a group by replying to the original post in order for that group to be approved. In almost all circumstances, the group will be made public and all community members will be allowed to join. We will also require at least one individual to be designated as a group owner. 
What is expected of group owners?
Group owners are responsible for regularly engaging the group in discussions and ensuring that membership in the group is creating value for other members. While we will not require a minimum amount of activity in a group initially, we may review activity across groups at some point in the future and consider archiving groups that appear to be inactive. Here are four ideas group owners can use to keep their groups active:
Create daily, weekly, or monthly rituals – develop habits in your group. This can be as simple as sharing a word of the day, a quote of the week, or a question of the month. Whatever it is, develop habits by creating repetition and presenting a clear ask of your group members whenever you share.
Host casual meetups – host a happy hour once a month where you all join together to casually discuss a topic (ideally whatever topic the group is formed around). This will strengthen personal connections in your group and lead to members helping each other more.
Tag other members – welcome new members to the group, connect individuals who you think might get along, and frequently engage the audience when you post by tagging individuals.
Start a debate – ask questions related to the group's focus that are contraversial. This will lead to lively discussion that encourages members to share their own ideas, which will help the group learn from shared perspective.
Who can request a new group?
Anyone! Docebo customers, partners, and employees are all welcome to request groups.
What are you waiting for? Request away!