Folks - today made a first for me. I watched a group of healthcare professionals move their teams from just knowing the course is out on Wednesday night to a whopping 96% completion rate.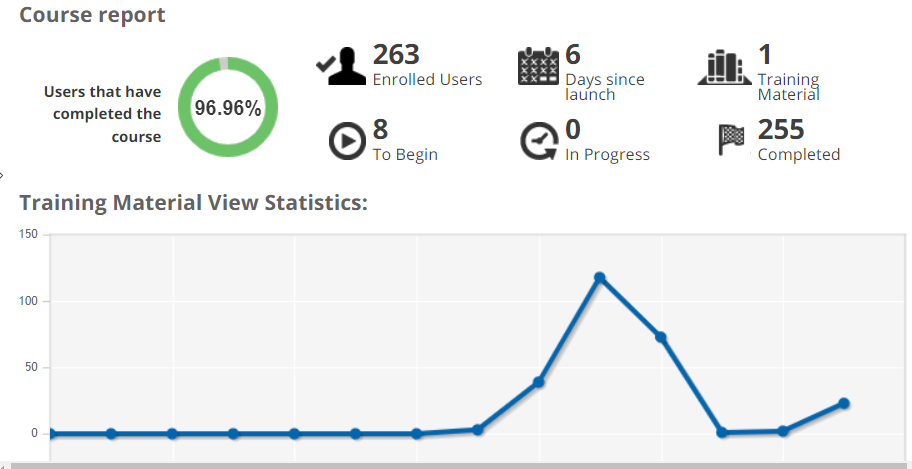 And so I thought this one would be good to share. What was "the magic sauce" that moved the needle so quickly? Here are the notes that made this happen.
Preface: The one thing that I want to believe is most critical (that is probably more philosophical than anything else), when adult learners understand the "value add" with what they are learning...They will get things done.
The targeted audience: This was done with a remote workforce that are mostly not at workstations!! Mobile ready was important.
A real course. Even though this was short, this was a real course with learning objectives to outcomes. It had learning material with a quiz at the end that had a reasonable amount of challenge. Not just an "attestation or electronic signature course".
It was the right course length. Less than 10 minutes.
It was a training material covered in huddles before it was deployed. No they did not give away the answer key.
Docebo allowed for a really squeaky clean LX. That task list widget right on the front page works out really well for identifying people.
The "course workflow" was seamless - because it was a SCORM course. If a person failed, they could restart without ever leaving the training material or course player.
All of only

two notifications

went out - one on mapping people to the enrollment and one reminder (only this morning!). Reasoning: We didn't inject followup communications from the system itself because we knew in the past that "the team" heard extremely well. From the human communication machine outside of the system (in terms of daily teams huddles).
Regular daily scheduled reporting kept leads aware of the movement and cadence of people to complete the course (no fuss with deactivated or inactive users).
Sharing every morning on a regular basis the course report above via impromptu conversations.
Get this - no systems incentive. No badges, not points, no gamification used.
Authentication? A non-issue. The entire group has essentially logged into the system in the recent past. The authenticated directly against Docebo - no SSO in between.
I am so very proud of this groups accomplishment simply because for the 8 years in Healthcare and learning system, I have never seen (seriously) a group this driven with so little incentivizing (from my end) move through the learning ask so effectively and quickly. And even with onboarding orientations? You know we had to nudge at least a few times to keep people moving.
Question for you - do you have a learning campaign that you are super proud of that did something similar? Let me know down below….