Is this your first time visiting Docebo Community? Welcome! We're super happy to have you here!
 
🔵 Let's start off with a simple question: Why are we all here?
This community is built for anyone who hopes to use Docebo to achieve positive business outcomes. Whether it's your first or your thousandth day using Docebo, there is something in the community for you. This community is filled with experts who are here to help you be successful and to answer your questions. You'll find both others who can teach you and others you can teach.
This community is for everyone so please be sure to follow these guidelines as you interact in the community so we can continue to build an environment where everyone feels welcome!
So what are you waiting for? Introduce yourself in our introductions thread and find out who else is here!
🚌 Next, hop on the bus and let's take a quick tour.
If you scroll to the top of the community from any page, you'll see a few options available to you. Let's define what those are:
Discussions
Pretty self-explanatory, eh? Share best practices, ask questions, get answers, and get inspired. If you want to learn more about our Discussion Categories, check out this guide. If you're ready to create your first post, then I suggest checking out the following guide: 
Guides
These are also fairly aptly named. Guides are filled with advice and resources for your success that come straight from some of Docebo's best and brightest. They're designed to invite conversations and suggestions and are driven more by user experience rather than by product line (unlike our Knowledge Base). You can expect to see more Guides added to Docebo Community over time.
Groups
Whereas Discussions are organized around types of questions our members might ask, groups are organized by types of people (i.e. Industry, Region, Use Case, Role, etc.) Have an idea for a group that you think could help the community? Let us know by following these steps.
Events
Here you can see all of the events happening around Docebo. Keep an eye out for discussions about events both before and after they take place. If you missed a live event, don't worry! All past events are updated with a link to the on-demand version so you can watch any time.
Product Updates
We share a lot of information about our release in Docebo University and on the Product Updates page of our website, but we understand that it can be difficult to keep up with. On the Community Product Updates page, you can expect to find weekly notices of our maintenance releases, roundups of our monthly releases, and important product release information. Best of all, you can subscribe to this page so you are notified when a new update is posted.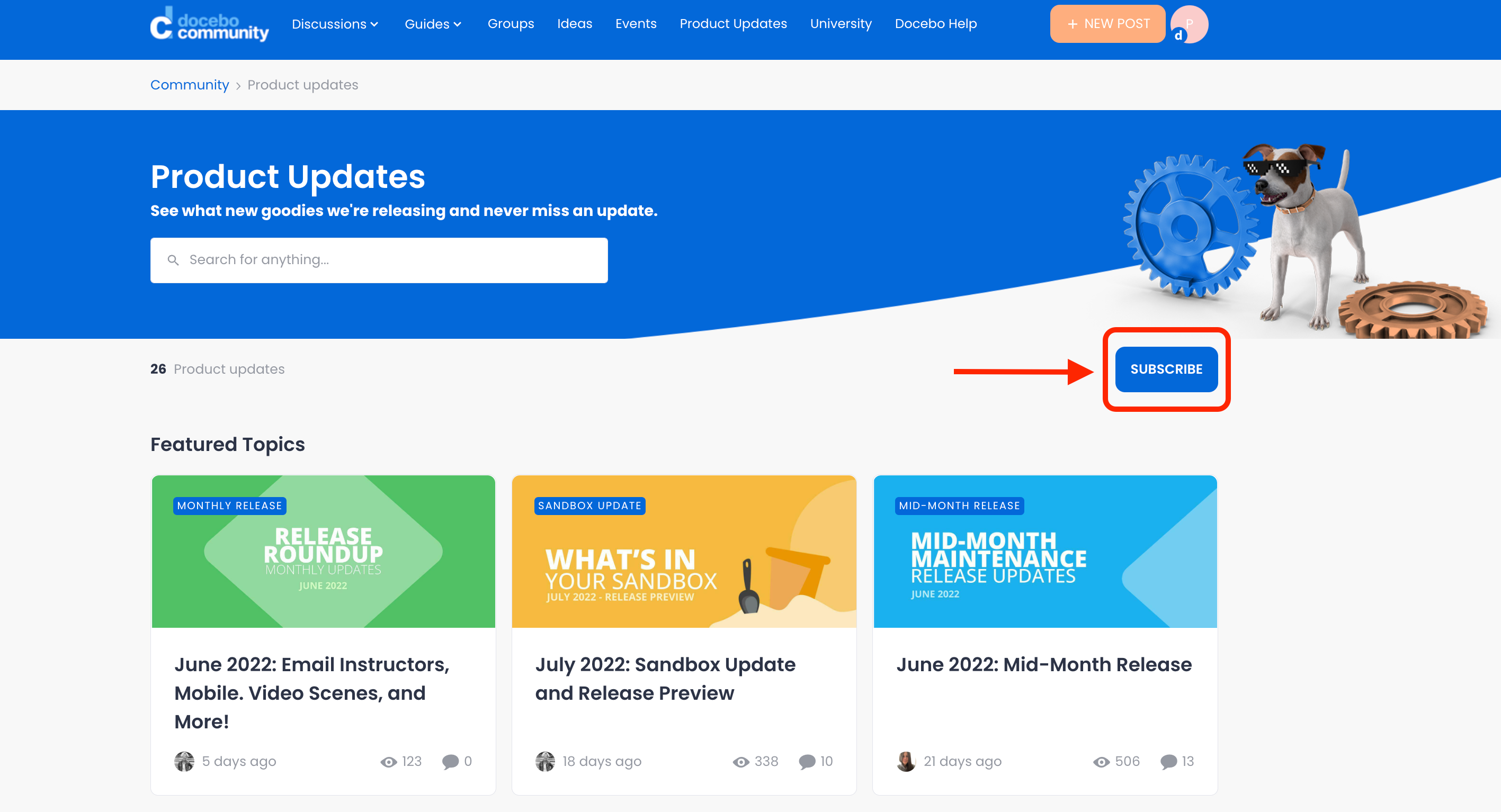 University
If you don't know by now, we'll forgive you, but you should really do yourself a favor and check out Docebo University. It contains dozens of courses that will help you become a Docebo expert so that you can return to this community with a wealth of knowledge to share with the world.
Docebo Help
Speaking of knowledge, trust us, you'll want to check out Docebo Help. Think Ikea instructions for Docebo products, only the pictures are better, they're better written, the names make more sense, and it's technology, not furniture (maybe don't think Ikea instructions, but I really thought that analogy was going to have legs).
🏁  Now that you've had a tour, you might want to:
We're so excited to have you here!
Any questions, let us know below 👇